Bollards are versatile applications for security and demarcation. Bollards encourage safer spaces by protecting people and infrastructure from vehicle intrusion, but they can also be used more casually as visual guides or boundary markers. Indoors or outdoors, they protect and guide users of the area.
In terms of installation, it is well known that bollards can be permanently installed as a fixed application. However, fixed bollards do not work well in areas where access control needs are variable. In these areas, bollards must be able to be moved back and forth between installation and removal.
One of the most common installation methods is the use of underground receivers. They are designed to easily accept or release removable bollards. However, it is important to understand the advantages of each receiver before deciding on the best one for your needs.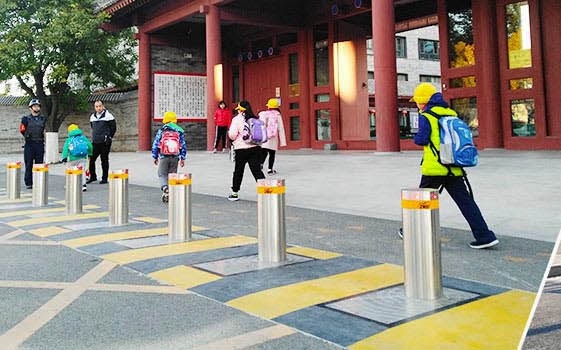 Receivers with Covers
Receivers with covers are known for their simple and effective design. The bollard slides into the receiver and is held in place by a receiver cover that is padlocked to the studs on the side of the bollard. The cover also serves as a receiver cover when the bollard is removed. This is the only receiver style with a built-in cover that minimizes tripping hazards.
The receiver with cover is ideal for situations where bollards are removed periodically, such as to allow daily service vehicles to pass. The cover sits flush with the ground to prevent any obstruction to pedestrian traffic.
Receivers with chains
Receivers with chains are the most economical option. They work best in environments where bollards do not need to be removed frequently. Once the bollard is installed into the receiver, the receiver's chain is lifted onto the studs on the side of the bollard and securely padlocked. These removable bollards work well at park entrances and can be visited only once a month by service vehicles for landscaping. When a visit is needed, the bollards can be temporarily removed. When the job is done, they can be repositioned.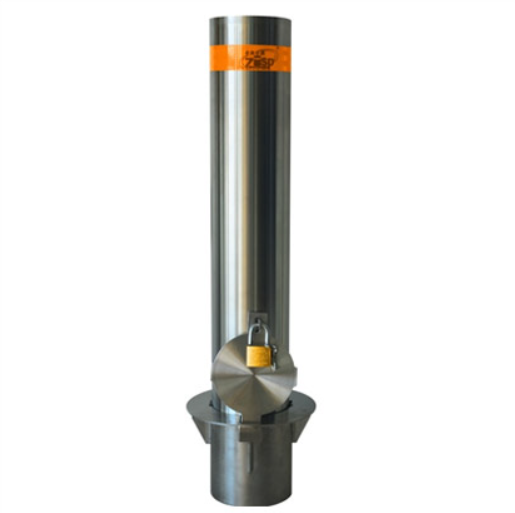 Crash-rated receivers
Collision-rated bollards designed and tested to withstand collision impacts are available in removable models. The lower grade receiver of these bollards is deeply embedded in the concrete and is an integral part of the crash grade. Above bollard grade sections are heavier and must generally be removed with a winch.
Internal locking hardware
Bollards with internal locking hardware have shallower receivers than other removable mounting options. They are ideal for installation sites where the ground depth is not great. This includes overhanging floor construction sites (multi-story parking lots) and areas with high voltage power lines underground. When deep excavation is a safety hazard, consider installing receivers with internal locking hardware. These do not require deep embedment for proper operation.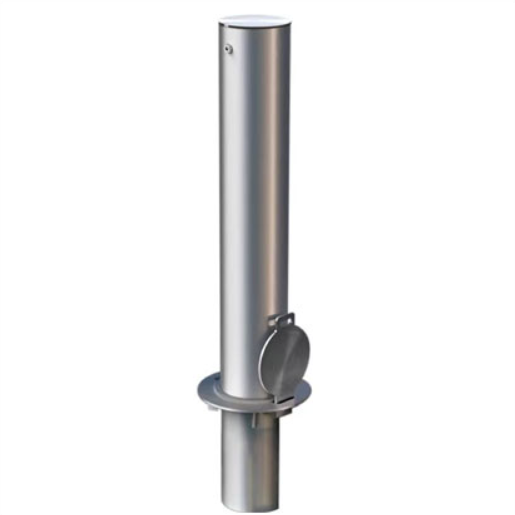 Slide-in Receivers
Another option for shallow mounting removable bollards is the simple slide-in receiver. Slide-in mounts are easy to install and have very little impact on the site. These mounts include a disc mounted on the bollard that allows the installer to set the bollard on a locking ring in the receiver. A padlock secures the bollard.
Removable Receiver
Receivers are built to withstand the wear and tear associated with the outdoor environment. They are typically made of galvanized steel or stainless steel. Galvanized steel receivers are the more economical choice, while still providing corrosion resistance because the galvanized steel is coated with zinc. Stainless steel receivers are suitable for more severe environments. It has a stable passivation layer of chromium from within the metal. Even if the stainless steel receiver is scratched, the passivation layer will repair itself and protect the receiver from corrosion.
As access needs diversify in urban environments, removable bollards make it possible to temporarily install barriers, creating smoother, more adaptable spaces. Please contact ZASP if you need to buy them, we offer professional advice.