K12 M50 Impact Tested Shallow Mounted Hydraulic Automatic Road Blocker With EFO
IWA 14-1 7500kg / 80kmh, equal ATSM K12/M50
Zero penetration
How quick can stop hostile and non-hostile vehicles entry? Road blocker working with EFO can be opening in 1.5 sec. Opening time of wedge barrier normally in 4~6 seconds, it is not enough when react in front of terrorist attack. So the fastest solution is install EFO – EMERGENCY FAST OPENING SYSTEM.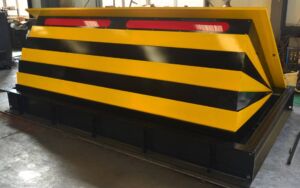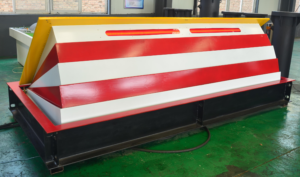 Advantages
1.Dual hydraulic oil cylinders, high stability and durability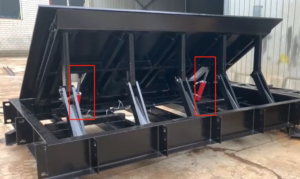 2. Top Plate 25mm(±2) thickness
· National standard high-strength steel for the top plate;
· Heavy rolling without deformation;
· Skid resistance pattern-steel surface;
· Static loading capacity: ≤100 tons
Passing loading capacity: ≤200 tons;
3. Skid resistance pattern-steel surface

Specification
Dimension
(Intercept width+200mm)L*2000mmW*300mmH(Depth)
Intercept Height
1000mm(±10mm)
Intercept Width
4M with front folding skirt
6M without front folding skirt
Depth
300mm
Top Plate Thickness
25mm(±2mm)
Product Weight
4M-3100KG, 6M-4200KG
Movement Principle
Hydraulic
Rising Time
3~5s
Color
Yellow & Black, RAL color optional
Type Of Use
Intensive
Finish
Special Anti-corrosion treatment(Hot Dip Galavanized+pure
epoxy outfitting primer+polyurethane topcoat),
Black/Yellow or RAL optional
Loading Capacity
Static Loading Capacity: ≤100 Tons
Passing Loading Capacity:≤200 Tons
E.F.O Circuit For Emergency Rising
EFO≤2s,supply 2 times rising in case of power off.
Protection Class
IP68
LED Warning Light
Yes
Device For Manual Handling
Yes
Voltage For Control Unit
200V,triphasic,50HZ
Rated Power
7.5Kw
HPU Dimension
Without Roof:1200Wmm*900Dmm*1700mm;
With Roof:1260Wmm*960Dmm*1797Hmm;
Control System
PLC control,linkage work
Available Items
Emergency fast raise system;
Emergency buttons with lock down;
Accumulator systems for hydraulic operation in power failure conditions;
Access and intercom systems;
UPS backup for the electrical system;
Interlocking systems to give air-lock type protection on sites with higher threat levels;
Inductive loop systems;
Traffic lights and back indications systems;
Integral inset warning lights in;
A3 steel cover plate with anti-slip coating;
E.F.O. emergency start-up circuit (about 1.5 seconds);
Equipment for manual operation;
Heat-resistant;
Traffic light with two lights (green-red);
Loop inductive detector;
Inductive loop.
Our products have a wide range of applications, if you want to know more, welcome to click here! Case Studies