HA401 Road Blocker: Ensuring Unparalleled Security and Access Control
Welcome to our comprehensive guide on the HA401 Road Blocker, a cutting-edge security solution designed to provide unmatched protection and access control for high-security areas. In this article, we will explore the features, benefits, and installation process of the HA401 Road Blocker, highlighting its effectiveness in safeguarding critical infrastructure, government facilities, and other sensitive locations.
ZASP provide high security level products of Hydraulic Automatic Bollards, Road Blockers and Tyre Killers, also supply Semi-Automatic / Fixed / Removable / Manually Retractable bollards for different security level selected. Welcome to contact us!
Understanding the HA401 Road Blocker
The HA401 Road Blocker is an advanced security system specifically engineered to prevent unauthorized vehicle access and ensure the utmost safety of protected areas. With its robust construction and intelligent control features, this road blocker offers superior performance and reliable protection against vehicle-borne threats.
HA401-650 deep mounted road blockers impact test video by 6800kg/65kmh
Installation drawing of drain mode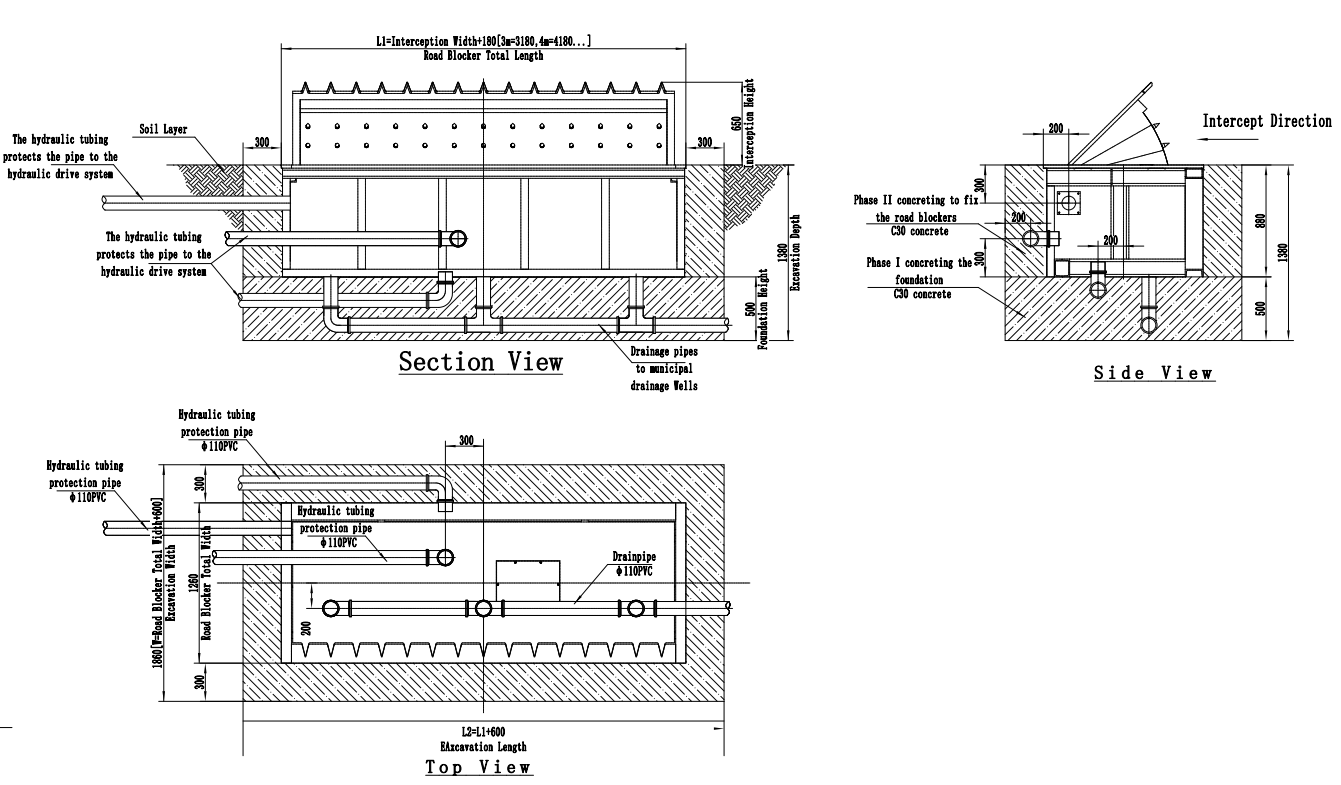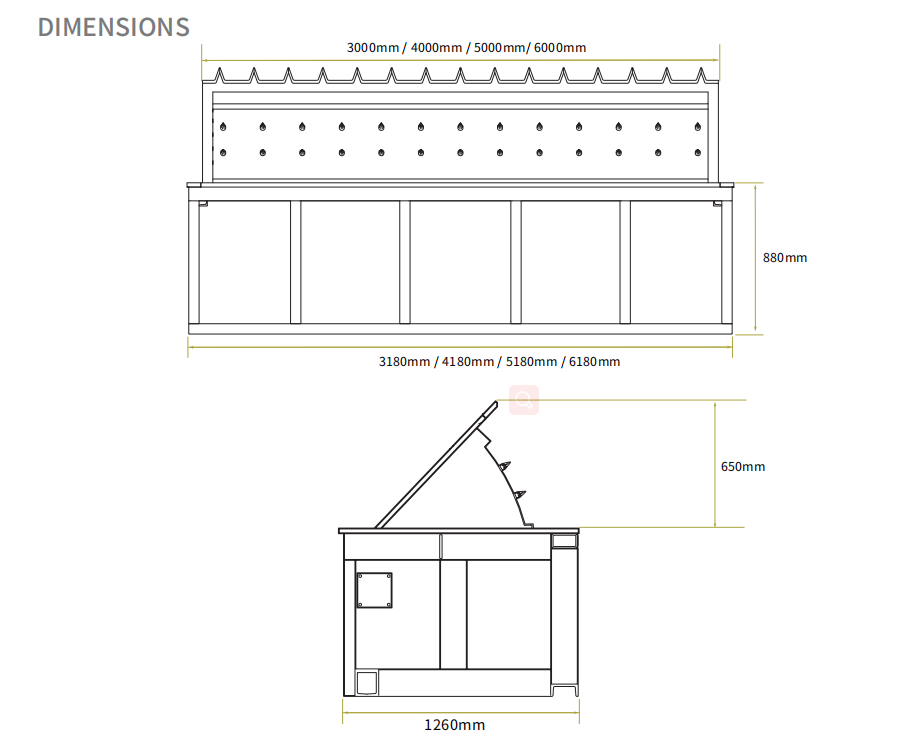 Standard blocker dimension(mm):3180x1260x880(Width is optional 4180;5180;6180)
Depth: 880mm
Rising height(mm): 650(±10)
Top plate thickness: 25mm
Material: A3 steel
Lifting time(s): ≤3
Supply voltage(v): 380
Operating temperature(℃): -35~+55
Crash rating: China B3 rated, 6800KG/65KMH impact tested
The HA401 Hydraulic road blocker is mainly design focused on protect sensitive area , that may be violated by un-allowed vehicle forcibly entered, with high reliable and safe performance. Road blocker normally consisted of steel framework, hydraulic station and electronic control system, according to different situations, blocker could be customized.
What is hydraulic road Blocker?  Hydraulic road blockers are designed for access control which have a threat of vehicle attack or for the ones that have high security requirements, especially some sensitive locations, such as government office, military base, jails, power station, airports etc. The drive unit is hydraulic, it has excellent performance of lifting force and durability.
Key Features
1.Heavy-Duty Construction: The automatic road blocker is constructed with high-quality materials, including reinforced steel, to withstand high-impact collisions. Its sturdy design provides a formidable barrier against unauthorized vehicles, safeguarding critical infrastructure and sensitive locations.
2.Hydraulic Power Pack: Equipped with a powerful hydraulic power pack, the road blocker offers precise and rapid operation. The hydraulic system ensures quick deployment and retraction, allowing for efficient traffic control and access management.
3.Anti-Terrorism Design: With an emphasis on security, the automatic road blocker is engineered to resist attempted forced entry by hostile vehicles. Its crash-rated design and anti-terrorism features provide effective defense against potential threats, enhancing the overall security of any protected site.
4.Intelligent Control System: The road blocker integrates an intelligent control system that enables seamless integration with access control technologies, such as card readers or biometric systems. This integration ensures efficient and secure access management, allowing authorized vehicles to pass while effectively preventing unauthorized entry.
5.Emergency Operation Modes: In case of power outages or emergencies, the automatic road blocker is equipped with emergency operation modes, including manual control options. These features ensure continuous security even during unforeseen circumstances, providing peace of mind in critical situations.
Benefits of the HA401 Road Blocker
Investing in the HA401 Road Blocker offers a wide range of benefits that significantly contribute to the security and protection of high-risk areas. Let's explore some key advantages:
1.Enhanced Security: The road blocker's robust construction and anti-terrorism design act as a powerful deterrent against unauthorized vehicle access. By effectively preventing forced entry attempts, the HA401 Road Blocker ensures the safety of critical infrastructure, government facilities, and other sensitive locations.
2.Efficient Access Control: With its intelligent control system and seamless integration with access control technologies, the road blocker enables efficient access management. Authorized vehicles can smoothly pass through while unauthorized ones are effectively prevented from entering restricted areas, ensuring a controlled and secure environment.
3.Traffic Regulation: The automatic road blocker assists in traffic regulation by providing a controlled and organized flow of vehicles. By managing access points, it contributes to smooth traffic management and reduces congestion, particularly in areas where security and access control are paramount.
4.Customizable Design: The road blocker can be customized to meet specific site requirements. From size and shape to color and finish, customization options ensure seamless integration with the aesthetic and architectural aspects of the protected area, maintaining its visual appeal.
Installation Process
The installation of the automatic road blocker should be performed by experienced professionals to ensure optimal performance and safety. Here is a general overview of the installation process:
1.Site Assessment: A comprehensive assessment of the site is conducted to determine the most suitable locations for the road blocker installation. Factors such as access points, traffic flow, and security requirements are considered during this stage.
2.Foundation Preparation: Excavation is carried out to create a foundation that accommodates the road blocker system. The foundation size and depth depend on the specific model and site conditions.
3.Road Blocker Installation: The road blocker units are carefully positioned and secured into the foundation, ensuring proper alignment and stability. Professional installation ensures the system's reliability and effectiveness.
4.Electrical and Hydraulic Connections: Electrical and hydraulic connections are established according to the manufacturer's instructions. These connections enable the road blocker to receive power and control signals, facilitating its seamless operation.
5.Testing and Calibration: After the installation is complete, thorough testing and calibration procedures are performed. This ensures that the road blocker functions correctly and adheres to the specified security standards.
Why Choose ZASP's Automatic Road Blocker?
With ZASP's Automatic Road Blocker, you benefit from a reliable and efficient solution for securing your premises. ZASP's commitment to excellence ensures that each road blocker is manufactured with precision and undergoes rigorous quality testing before leaving the factory.
Moreover, ZASP's "one-stop-factory" approach simplifies the entire process, from production and assembly to integration and delivery, all under one roof. This integrated approach guarantees top-notch quality control and seamless coordination, saving time and effort for our valued customers.
When you choose ZASP, you opt for a trusted partner with vast experience in R&D, production, service, and application innovation. Our dedication to customer satisfaction, along with OEM & ODM service availability, ensures that your security needs are met with tailor-made solutions.
Protect your critical assets with the industry-leading Automatic Road Blocker from Beijing ZhuoAoShiPeng Technology Co., Ltd., and experience the epitome of high-security Hostile Vehicle Mitigation technology.