Hydraulic Automatic Bollard: The Ultimate Solution for Access Control
Introduction
Welcome to our comprehensive guide on hydraulic automatic bollards! At ZhuoAoShiPeng, we take pride in providing top-notch access control solutions for a wide range of applications. In this article, we delve into the world of hydraulic automatic bollards and explore their numerous benefits, applications, and features. Whether you're a facility manager, security professional, or simply interested in enhancing access control, this article is for you. So, let's dive in and discover why hydraulic automatic bollards are the ultimate solution for effective access control.
The HA102-600 hydraulic automatic retractable traffic bollard is a high-quality hydraulic security bollard which is particularly suitable for the intelligent and automatic control of traffic within residential areas. It is an ideal solution for entrance with high security requirements. The solid body can stop the vehicle with high tonnage and high speed easily. Meanwhile, it has the advantage of invisibility and aesthetics.Normally, the bollard system will be integrated into entrances and exits of commercial premises and car parks as well as of leisure and sports centers with a middle security level (M30). Bollards can be operated by remote controller, push button, card reader and other existing access control system. Welcome to choose us as youe hydraulic automatic bollards China supplier!
What are Hydraulic Automatic Bollards?
Hydraulic automatic bollards are robust and highly durable vertical posts that function as a security measure to control vehicular access to restricted areas. These bollards are engineered with cutting-edge hydraulic technology, allowing for seamless operation and efficient access control management. By employing hydraulic mechanisms, these bollards offer exceptional strength and reliability, making them an ideal choice for high-security applications.
HA102 hydraulic automatic bollard is automatic security barrier systems. It was passed crash tests under China standard <Anti-Riot Lifting Barrier Standard (GA/T 1343-2016)> in 2018 January. Compare to other standard system, China standard have more higher and clear requirements on equipment work ability after installation.The HA102-600 Hydraulic Automatic retractable traffic bollard is a high-quality hydraulic security bollard which is particularly suitable for the intelligent and automatic control of traffic within residential areas. It is an ideal solution for entrance with high security requirements. The solid body can stop the vehicle with high tonnage and high speed easily. Meanwhile, it has the advantage of invisibility and aesthetics.
Except crash tests, HA102 automatic bollard passed continues 5000 lifting test, IP68 water proof and dust proof test, temperature test etc.. series of performance tests.According to different types, equipment lifting time could range from 3 until 5 seconds. With emergency release system, power outage or other emergencies, can be artificially lower, release vehicles.
ZASP Hydraulic Automatic Bollards China Supplier can perfectly combine with ZASP boom barrier, tyre killer and road blocker for high level security. ZASP is one of the leading Hydraulic Automatic Bollards China Suppliers, Welcome to visit our website and buy or wholesale our cheap HA102-600 Hydraulic Automatic Bollards at low price.
HA102 impact test video by 1500kg/100kmh, penetration 0.87 meters, P1
Installation drawing of drain mode
Installation steps
1. Cut the ground surface and excavate,the foundation base need around 800mm and 1130mm.
2. Fill the bottom with 20-30mm pebble and sand as water seepage stratum.
3. Embed the bollard,make sure the head of the bottom is at the same level with the horizontal ground.
4. Install the wiring tube and drainage pipe.Make sure each wire should be secured by waterproof tape.
to avoid water vapor permeated into the wire.
5. Power on to test. Make sure the bollards can work well.Then cover the head of the bollard to avoid the concrete dirty it.All the drainage pipe hole need to be covered by structural adhesive.
6. Pour the concrete into the foundation base.Be careful to avoid the movement of bollard.
7. Tidy up the bollard head and ground surface, complete installation.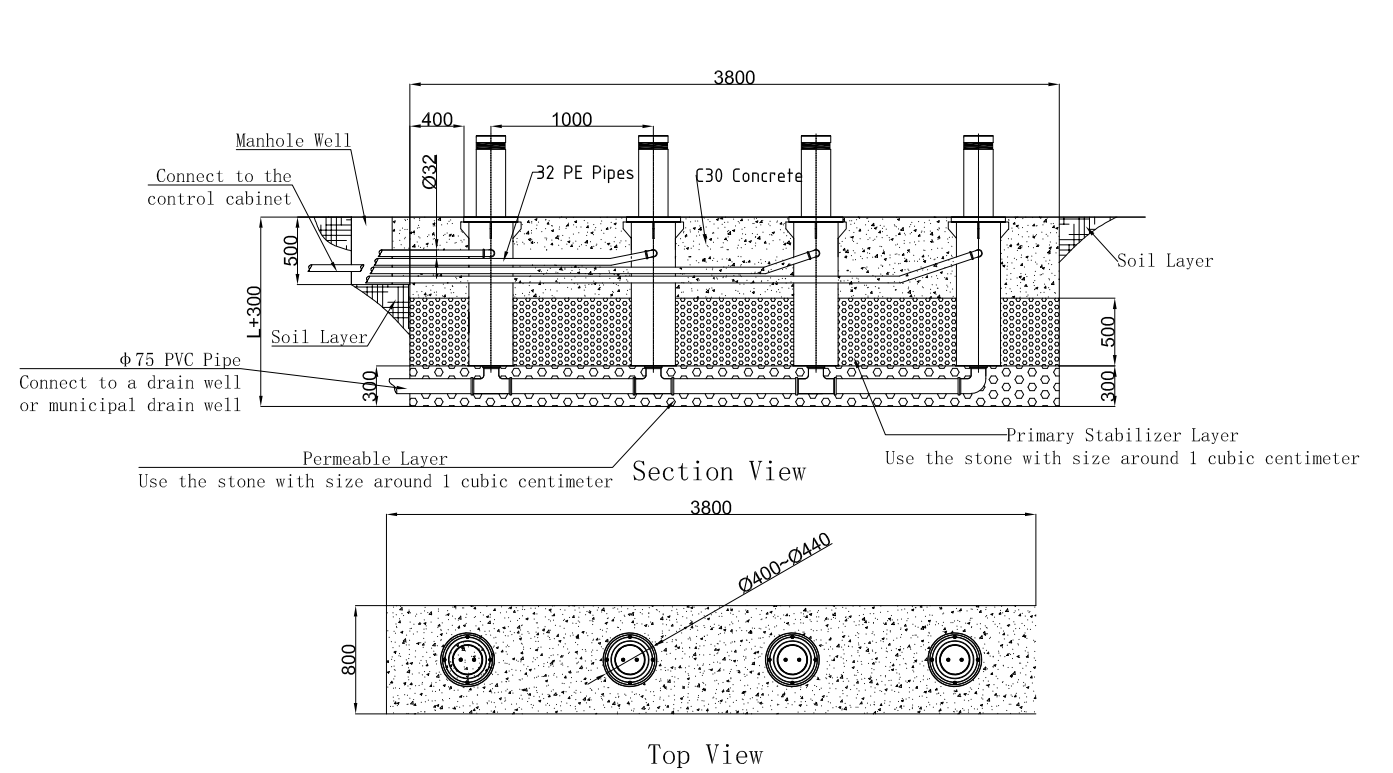 Installation drawing of water seepage mode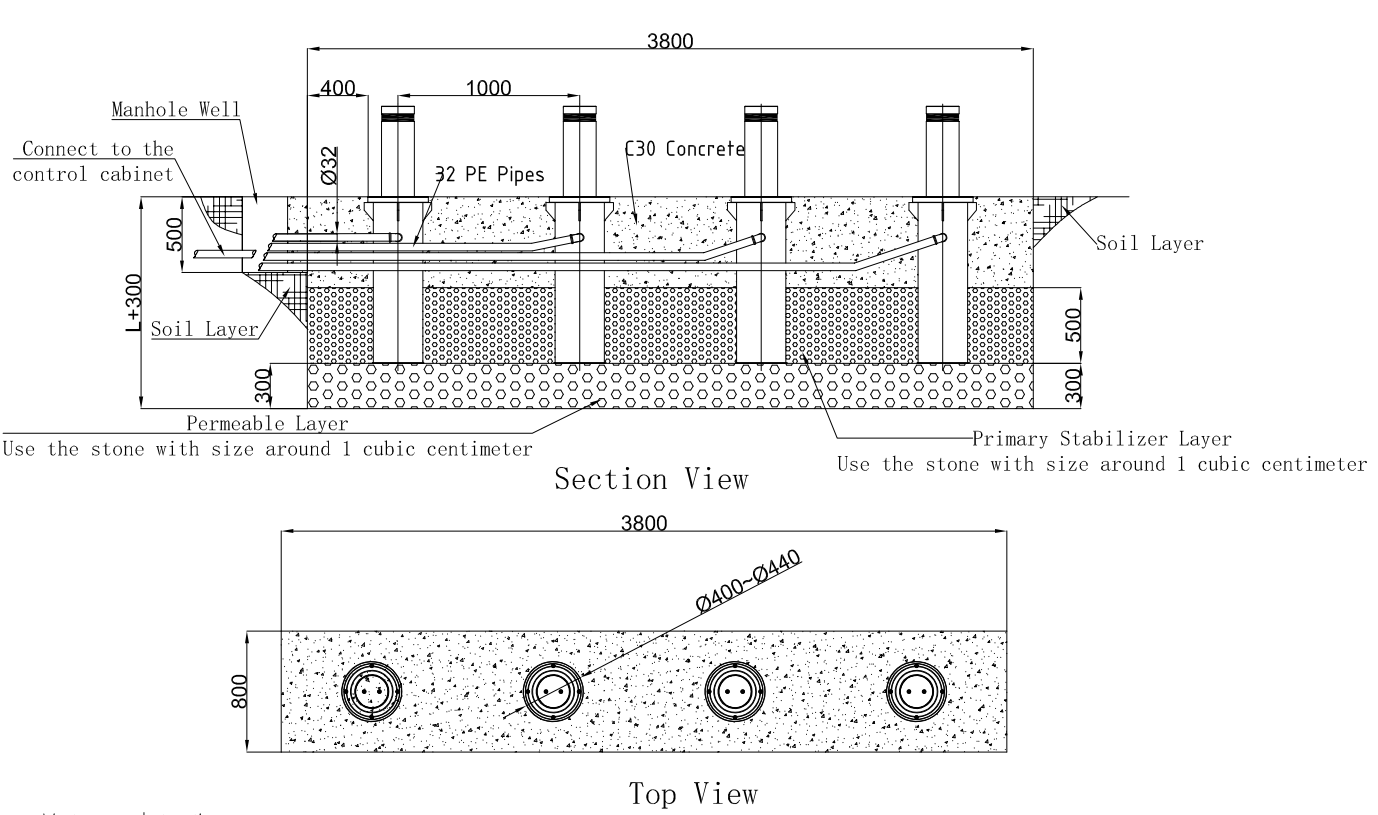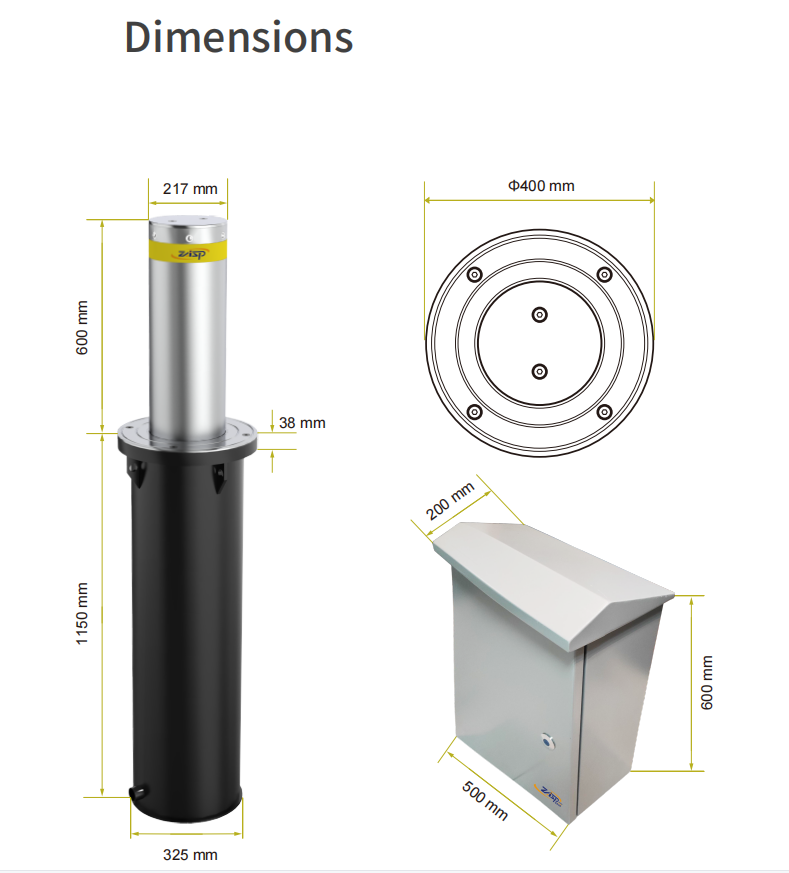 ● Dimension: φ400×1150mm
● Bollard diameter: 217±1mm, customized 271mm diameter
● Bollard thickness: 10±1mm
● Height above ground: 600mm, customized 700-800-900-1000mm height
● Rising time: 3.8s
● LED light: Yes
● Protection level: IP68
● Working temperature: -40℃ ~ +70℃
● Crash rating: China D1 rating, 1500KG/100KMH, penetration 0.87 meters
● Material: 304 stainless steel, optional 316 stainless steel
● Color: customized
Key Features and Benefits
1. Unparalleled Security
Hydraulic automatic bollards provide an unparalleled level of security, ensuring unauthorized vehicles are unable to penetrate secure zones. With their sturdy construction and powerful hydraulic operation, these bollards act as a formidable deterrent to potential threats.
2. Flexibility in Access Control
Effortlessly adaptable to various access control requirements, hydraulic automatic bollards offer exceptional flexibility. They can be integrated with advanced systems such as keycard readers, intercoms, or license plate recognition technology to provide seamless access for authorized personnel while effectively restricting entry to unauthorized vehicles.
3. Durability and Reliability
Built to withstand extreme weather conditions and heavy-duty usage, hydraulic automatic bollards are constructed using high-quality materials such as stainless steel. Their hydraulic operation ensures smooth and reliable performance even with frequent use, making them a reliable long-term investment.
4. Easy Integration and Control
Hydraulic automatic bollards can be easily integrated into existing access control systems, making them highly convenient for both installation and operation. Furthermore, these bollards can be remotely controlled, allowing for efficient management of access points without compromising security.
Applications of Hydraulic Automatic Bollards
1. Critical Infrastructure Protection
Hydraulic automatic bollards play a crucial role in protecting critical infrastructure sites, such as government buildings, power plants, and airports. By effectively controlling access, these bollards mitigate potential security threats and ensure the safety of sensitive areas.
2. Commercial and Retail Establishments
Many commercial and retail establishments utilize hydraulic automatic bollards to regulate vehicle access to their premises. These bollards offer an efficient solution for managing parking areas, restricting entry during non-business hours, and ensuring the safety of customers and employees.
3. Residential Communities
Residential communities, gated neighborhoods, and apartment complexes benefit greatly from the installation of hydraulic automatic bollards. These bollards enhance security by allowing only authorized vehicles to enter, thus reducing the risk of unauthorized access or vandalism.
4. Public Spaces and Pedestrian Zones
In urban areas with pedestrian zones or public spaces, hydraulic automatic bollards prove invaluable in controlling vehicle access. By strategically placing bollards, city planners can create safer environments for pedestrians, prevent unauthorized parking, and maintain the overall integrity of the designated zones.
Our Service
1. We will reply you for your inquiry in 24 hours
2. Customers design and logo are welcome
3.Client's demand are welcomed
4. Credit and quality, the first principle of our management
5. Offer the design of package if needed
6. Various options to make payment more convenient
7. Any suggestions or complaints will be handled at the first time
We specialize in roadway safety industry for more than 12 years. We export our products to many clients from many countries, such as America, Canada, Costa Rica, Chile, Philippines, Japan, Russia, Romania, Ireland, Mozambique, Nigeria, South Africa, Australia and so on. We supply top quality products at reasonable price with best service.ZASP insists in the motto "developed by advanced technology, survived by topping quality." We warmly welcome clients from all over the world come to visit our factory and we create our brilliant future together.
Hydraulic automatic bollards represent the pinnacle of access control technology. With their unbeatable security features, adaptability, and durability, these bollards provide an effective solution for numerous applications. From critical infrastructure protection to commercial establishments and residential communities, hydraulic automatic bollards are the go-to choice for efficient access control management.
We are your best hydraulic automatic bollards China supplier, we specialize in delivering high-quality hydraulic automatic bollards that meet the most stringent security requirements. Contact us today to explore our range of cutting-edge access control solutions and take the first step towards fortifying your facility's security.
We look forward to working with you!
Hydraulic automatic bollards are an essential part of Hostile Vehicle Mitigation (HVM) roadway safety barrier equipment. As a leading hydraulic automatic bollards China supplier, ZhuoAoShiPeng Technology has a wealth of expertise in this area.
Hydraulic automatic rising bollards are designed to control and restrict vehicle access to secure locations, such as government buildings, airports, and military bases. They are an effective solution for preventing unauthorized vehicle access, providing an extra layer of security to high-risk areas.
Hydraulic rising bollards operate using hydraulic systems to raise and lower the bollard. The hydraulic system is housed within the bollard itself and is controlled by an automatic bollard system. The automatic bollard system can be controlled via a variety of methods, including key fobs, card readers, or even remotely via a computer system.
One of the benefits of hydraulic automatic bollards is their ability to provide a high level of security while still allowing access to authorized vehicles. This is achieved by programming the automatic bollard system to recognize specific vehicles and allow them to pass through the bollard unhindered.
Beijing ZhuoAoShiPeng Technology Co., Ltd. offers a wide range of hydraulic automatic rising bollards, designed to meet the needs of various applications. The hydraulic bollards price is competitive, and the company offers excellent after-sales service.
Beijing ZhuoAoShiPeng Technology Co., Ltd. has extensive experience supplying hydraulic automatic rising bollards to customers all over the world, including in Saudi Arabia. Their team of experts ensures that each hydraulic automatic bollard installation is tailored to the specific needs of the customer, ensuring maximum security and reliability. Choose us, you can be get most careful and thoughtful service!