Hydraulic Automatic Bollard
Are you in the market for hydraulic automatic bollards and wondering about prices? We are the hydraulic automatic bollards manufacturer and believe that our Hydraulic Bollard System is your best choice, manufactured with high-quality materials and designed for efficient traffic control.
Interested in learning more about our Hydraulic Automatic Bollard and hydraulic bollard prices? Contact us today and our knowledgeable team of professionals will be happy to assist you. As a trusted Hydraulic Automatic Bollard manufacturer, we are committed to providing the highest quality products at competitive prices.
Beijing ZhuoAoShiPeng Technology Co., Ltd was established in 2009, which is professional manufacturer of Hostile Vehicle Mitigation roadway safety barrier equipment, the R&D and the operation office is situated in Fengtai District of Beijing. We focus on producing high quality Automatic Bollards! You can put forward specific requirements, we will do our best to meet! Warmly welcome new and old customers to visit and patronize! Come and contact us!
Installation drawing of drain mode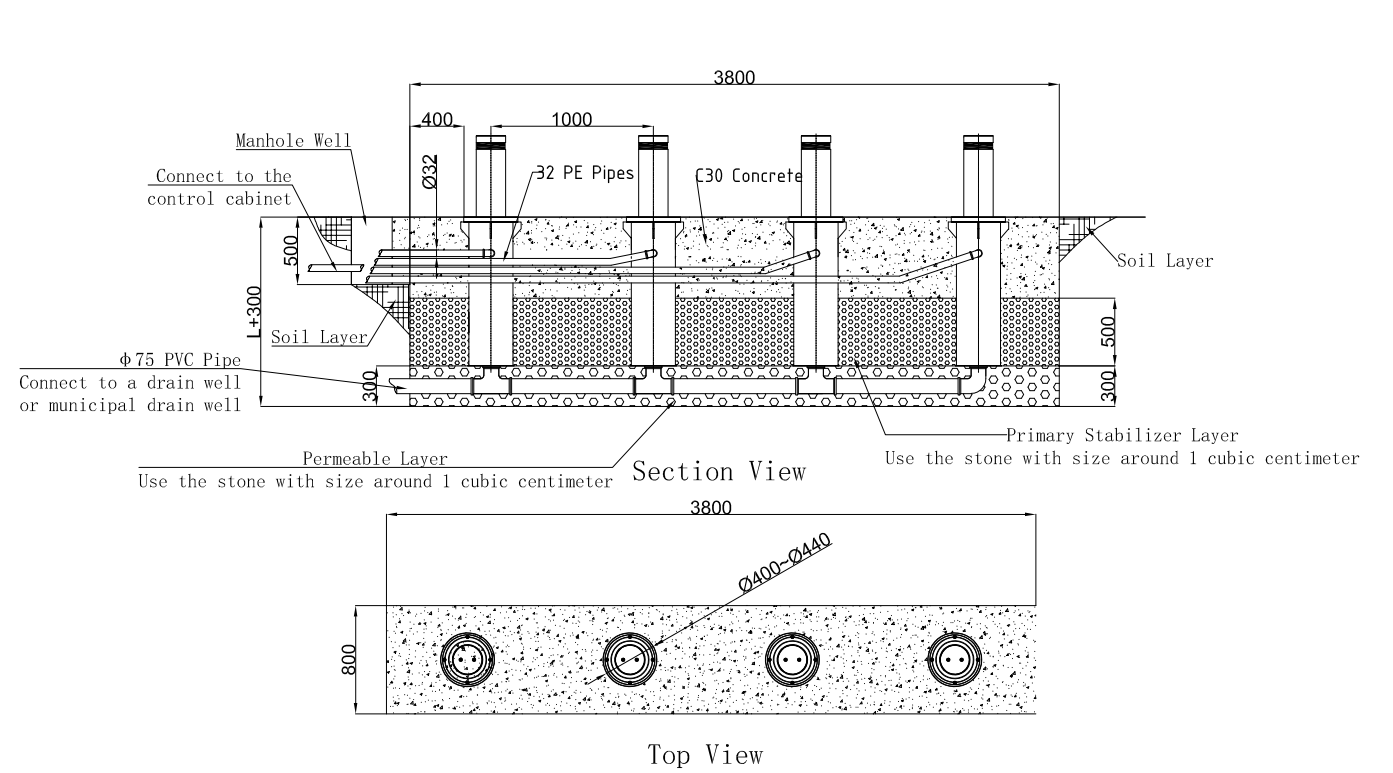 Installation drawing of water seepage mode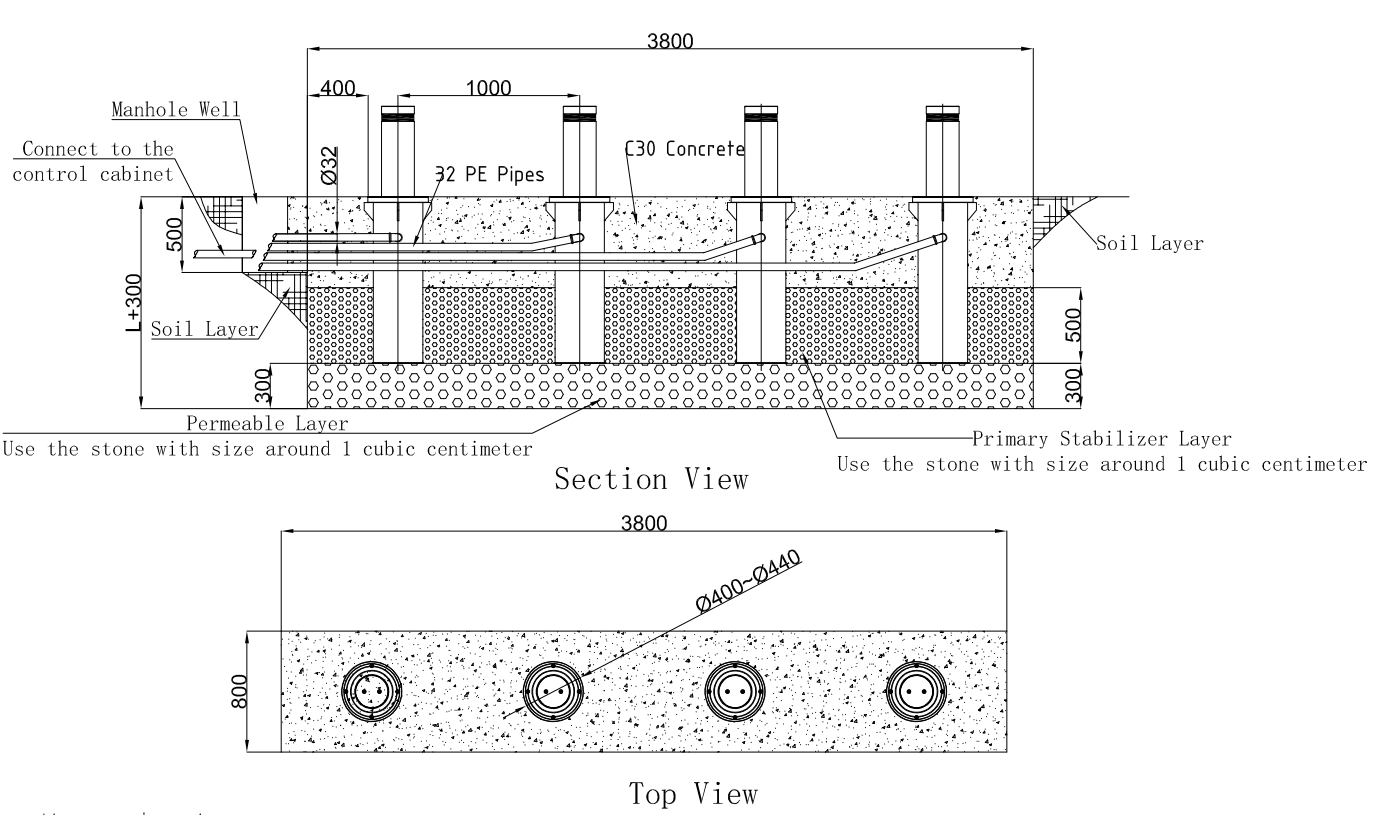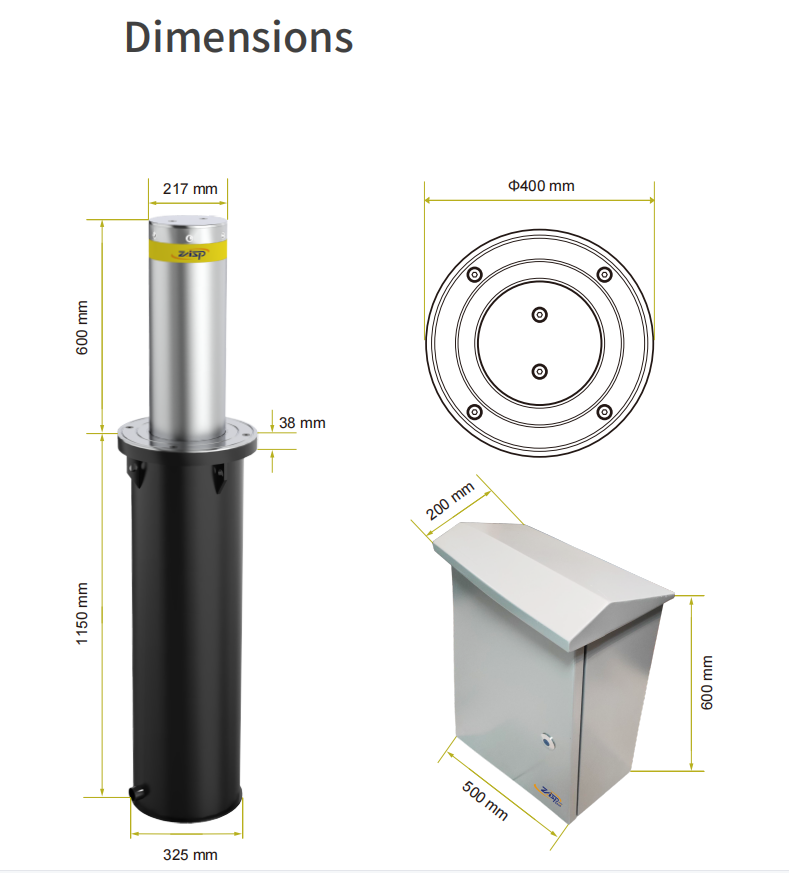 Specification
● Brand Name: ZASP
● Model Number: HA101
● Certification: CE, IP 68, SGS
● Place of Origin: HeBei, China
● Supply Ability: 2000 pcs per month
● Delivery Time: 5-15 days
● Packaging Details: Wooden cases
● Dimension: φ400×1150mm
● Bollard diameter: 217±1mm,customized for 271mm diameter
● Bollard thickness: 6±1mm
● Height above ground: 600mm, customized for 700-800-900-1000mm height
● Rising time: 3.8s
● LED light: Yes
● Protection level: IP68
● Working temperature: -40℃ ~ +70℃
● Material: 304 stainless steel, optional of 316 stainless steel
● Color: customized
Our

Hydraulic Automatic Bollard Advantages 
Easy and Quick Installation: Our bollards feature an integrated hydraulic ram, making installation and maintenance a breeze. Plus, you'll save money on installation costs compared to traditional bollards with separate hydraulic power units.
Reliable Quality: Constructed with durable 304 stainless steel, our bollards are built to resist corrosion and rust, ensuring they stay in top condition for years to come. To guarantee stability and reliability, our bollards have passed a series of performance tests, including 5000 lifting tests, IP68 water and dust proof tests, and temperature tests.
Efficient Control: With lifting times ranging from 3 to 5 seconds depending on the model, our Hydraulic Automatic Bollard provides efficient traffic control for a variety of applications. In the event of a power outage or other emergency, our bollards feature an emergency release system for safe and easy lowering.
Hydraulic Automatic Bollard

Features
The ZASP Hydraulic Automatic Bollard (Model Number: HA101) is a high-quality product from a reputable Hydraulic Automatic Bollard Manufacturer.
1. The bollard is certified by CE, IP68, and SGS, assuring its quality and reliability.
2. The bollard is made of high-quality 304 stainless steel and optionally available in 316 stainless steel, making it corrosion-resistant and rust-proof, ensuring its durability and longevity.
3. The bollard has a dimension of φ400×1150mm, and its diameter is 217±1mm, but it can be customized for a 271mm diameter to meet specific requirements.
4. The bollard has a thickness of 6±1mm, providing adequate strength and sturdiness.
5. The bollard has a height above the ground of 600mm, but it can be customized for heights of 700-800-900-1000mm, depending on the specific needs of the application.
6. The bollard has a quick rising time of 3.8 seconds, allowing for efficient traffic control.
7. The bollard has an LED light, making it visible even in low light conditions.
8. The bollard has a protection level of IP68, making it waterproof and dustproof and suitable for use in all weather conditions.
9. The bollard can operate in a wide range of temperatures, from -40℃ to +70℃, making it suitable for use in harsh environments.
10. The bollard has a supply ability of 2000 pcs per month and a delivery time of 5-15 days, making it readily available for customers.
11. The hydraulic bollard price is competitive and offers excellent value for money.
Application
Automatic rising bollard is suitable for high-frequency, high-security vehicle access places. Applied to the district, pedestrian street, parks, scenic areas, schools, fire exits, squares, car parks and other areas. Our products have a wide range of applications, if you want to know more, welcome to click here! Case Studies
Hydraulic Automatic Bollards are used to control vehicle access and enhance security in a variety of locations, including government buildings, banks, corporate offices, residential buildings, parking lots, and airports.
They are especially useful in areas where there is a need to restrict vehicle access, such as pedestrian zones or pedestrian-only streets, as well as in areas where traffic needs to be controlled, such as toll booths and traffic lanes. Hydraulic Automatic Bollards are also used in locations where there is a need to protect buildings and infrastructure from vehicle attacks, such as embassies, military bases, and other high-security installations.
We are your most trusted hydraulic automatic bollard manufacturer!
Introducing the Hydraulic Automatic Bollard from ZhuoAoShiPeng, the leading manufacturer of Hostile Vehicle Mitigation equipment in China. This high-quality bollard is designed to provide a high level of security and protection for critical infrastructure sites, commercial properties, and public spaces.
As a hydraulic automatic bollard manufacturer, we understand the importance of providing a reliable and effective security solution. Our bollard is engineered with the latest technology to provide a quick and secure access control system that can prevent unauthorized vehicles from entering restricted areas.
We offer competitive hydraulic bollards prices without compromising quality. Our bollards are made of durable materials and are designed to withstand harsh weather conditions, high impact forces, and extreme temperatures. The hydraulic system operates with precision and speed, with a rising time of just 3.8 seconds.
Our customers can benefit from our one-stop-factory service that covers HVM equipment enclosure production, assembly, integration, delivery, and after-sales support. We provide OEM & ODM service, so customers can customize their bollards according to their specific requirements.
Choose the Hydraulic Automatic Bollard from Beijing ZhuoAoShiPeng Technology Co., Ltd. for a reliable and effective security solution that is backed by over 12 years of experience in producing the highest quality HVM equipment. Please contact us for product catalog and quotation!